Genius Invisible Weft Hair Extensions by Kasey Lee
Premium Blonde Russian Hair installed by our extension specialists for your most effortless look yet.  
A silky and seamless addition to your hair. 
Developed by Kasey Lee, our seamless weft extensions are made with premium quality 100% Remy human hair Think soft, smooth, invisible, effortless hair, so discrete you won't even know they're there.
Created with the flattest, most seamless weft application on the market, these hair extensions are made from double drawn remy hair which means the cuticle is sealed shut for smoother and stronger hair, and will last a lot longer than your typical weft or tape extensions. Why? Because the quality is game changing.
The Flattest Option!
These weft extensions can be cut at the seam to allow a lighter and seamless application with very minimal bulk.
Russian Hair
Premium hair that will last you beyond years when cared for correctly at home. 
Cut & styled to YOU!
Available in a large range of colors and lengths to best match your natural hair.
Expert Application
A seamless experience with specialists who know how to create exactly what you want.
The Investment
These prices all include the hair extensions, sewing them in, cutting to suit your hair and styling the hair. Your coloring service is additional.
THIN HAIR.
If you're wanting to add thickness to your thin/short hair without adding length, we recommend a half head of weft extensions that we will cut to the same length as your natural hair.
50g 20inch starting from $450
THIN TO MEDIUM HAIR.
If you're wanting to add thickness & length, we recommend a full head of weft extensions. 
100g 20inch is starting from $800

100g 24inch starts from $950
THICK HAIR.
If you currently have thick short hair and would like to add length, we recommend 1 ½ head of weft extensions.
150g 20inch starts from $1250

150g 24inch starts from $1450
SUPER THICK HAIR.
If you currently have SUPER thick short hair and would like to add length, we recommend adding 2 full heads of weft hair extensions. 
200g 20inch starts from $1600

200g 24inch start from $1900
Please Note a 50% booking deposit is required for all in-salon extensions.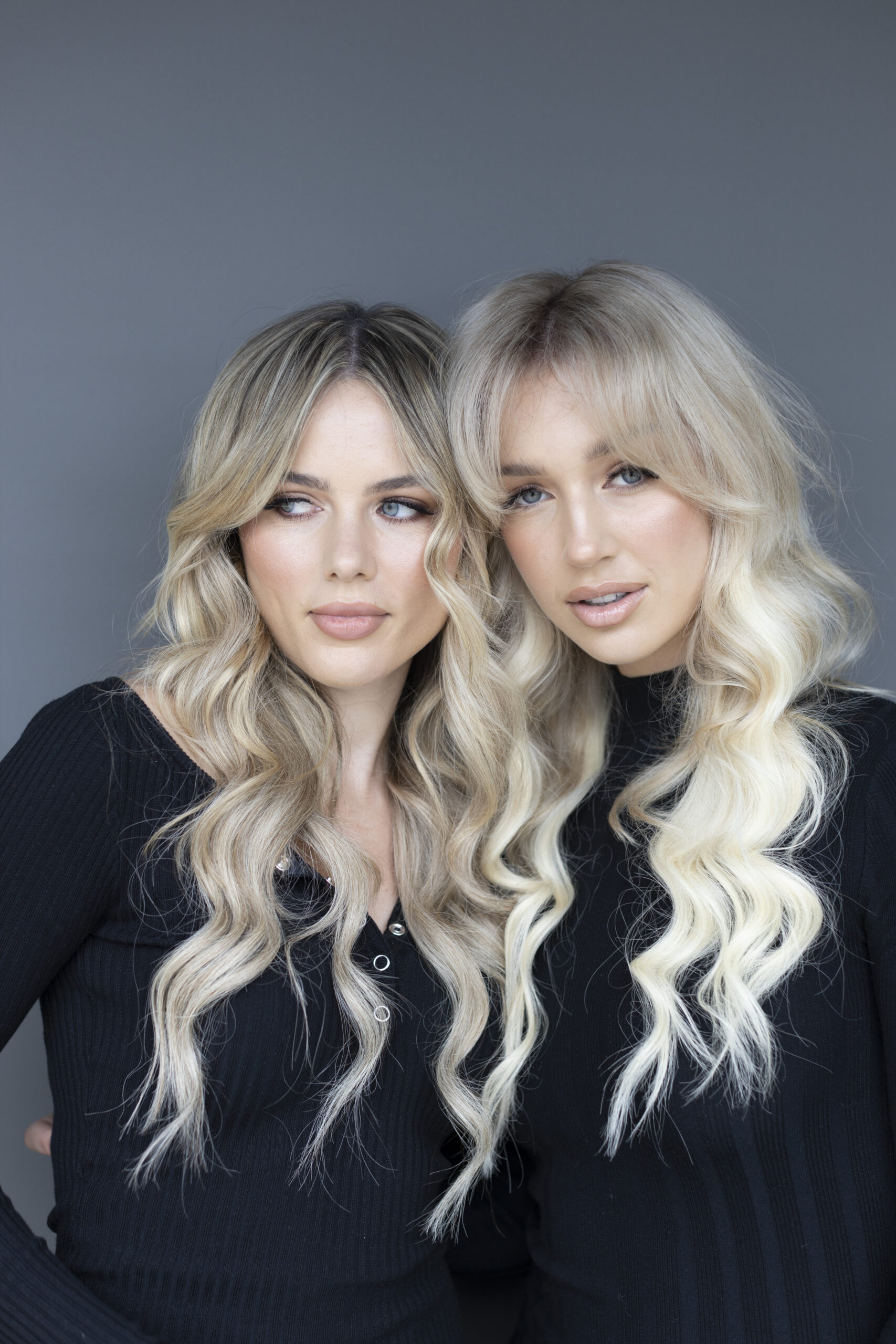 Coloring & Color Matching
Our Blonde extensions come in a variety of different colors and combinations, and we will match your hair the best we can, although sometimes to create the perfect match they may need to be colored to blend in seamlessly with your hair. If your extensions need to be toned, this is $90 on top of the appointment price.   
Brunette & custom colors are available to pre-order with a 4 week wait time. 
Re-Fits
Your weft extensions grow our as your natural hair does so they will need to be re-adjusted and brought back up to the root line every 5 – 8 weeks to keep your extensions looking and feeling their best.  
Refits / 50g – $120 / 100g – $160 / 150g – $180 / 200g – $210
How Long will these hair extensions last me?
Kasey Lee Russian hair extensions last between 6 – 18 months, as long as they are cared for correctly. Their life span depends on if they've been colored, kept clean and dry, had the correct up-keep & maintenance, and the amount of heat styling applied.
Can I swim with Weft Hair Extensions?
We don't recommend submerging your hair in chlorine or salt water as it will strip the moisture from your hair and cause mineral build up which can result in the hair turning green. 

If you do, then please wash your hair with a clarifying shampoo and follow up with a moisturizing treatment.
How do I best care for my Weft Extensions?
Maintain your hair at home by using moisturizing products such as shampoo, conditioner, treatments and leave in products, and always include a heat protector!
Make sure the products you are using are sulfate free and avoid protein as it will dry out the hair and create frizz. 

We recommend wearing low ponytails instead of high ponytails and use loose hair ties such as scrunchies to avoid breakage.
Always dry your hair before going to bed as it will create damage, your hair is at it's weakest when it's wet.
For an even better sleep with your extensions we recommend a silk pillow case and braiding your hair, this will help avoid tangling and breakage. 
How do I know if Weft Extensions are right for me?
If you are looking to add volume or length then its right for you!
Can I still color my hair with my extensions installed?
At Kasey Lee Blonde Specialist we always remove the extensions before a colour service then reinstall them after. 
Do Weft Extensions pull on your natural hair?
If your extensions are installed correctly there should be no damage caused to your natural hair